17/09/2018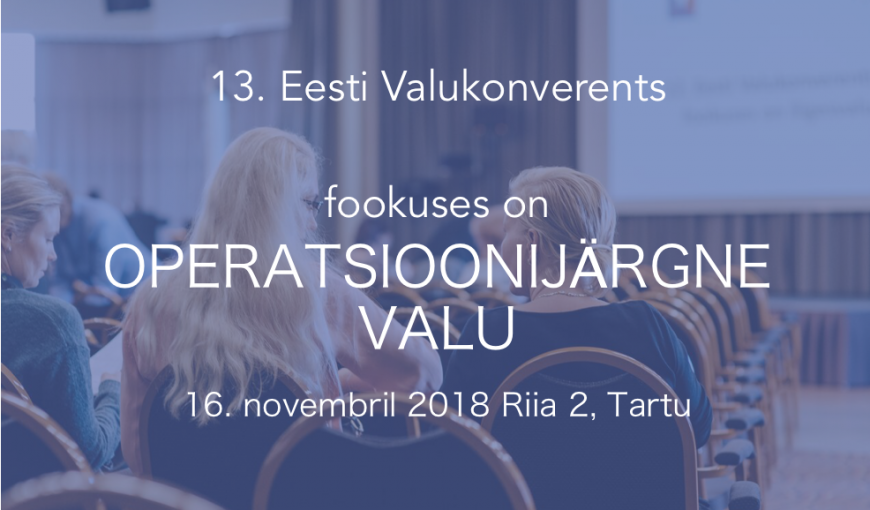 13. Estonian Pain Conference – focus on postoperative pain
Date of event:  16. november 2018
Venue: V Spa conference center – Riia 2, Tartu
Program
09.00-10.00
REGISTRATION, WELCOME-COFFEE, EXHIBITION
10.00-10.05
Opening
PART I
10.05-10.35

PAIN MANAGEMENET IN AMBULANCE SERVICE and EMERGENCY DEPARTMENT.

Aleksandra Shilova, resident in general surgery, EDPM; East-Viru Central Hospital
10.35-11.05

PERIOPERATIVE ACUTE PAIN MANAGEMENT – ESTONIAN GUIDELINE. 

Kaire Pakkonen, anaesthesiologist; Pärnu Hospital
11.05-11.20

11.20-11.35

POSTSPINAL HEADACHE – SCIENTIFIC RESEARCH OVERVIEW

.      Aleksandr Koroljov, anaesthesiologist; North-Estonian Regional Hospital 

POSTOPERATIVE  QUALITY OF LIFE CHANGE in TRIGEMINAL NEURALGIA PATIENTS – SCIENTIFIC RESEARCH OVERVIEW. Allan Avi, resident in neurosurgery

11.35-11.45
Questions
11.45-12.45
LUNCH
PART II
12.45-13.15

CHRONIC POSTOPERATIVE PAIN – HOW DOES IT DEVELOP? 

Boris Gabovich, anaesthesiologist; Medicum pain management center
13.15-13.45

CHRONIC POSTOPERATIVE BACK PAIN from NEUROSURGEON PERSPECTIVE.

Greete Pedai, neurosurgeon; East-Tallinn Central Hospital
13.45-14.15

POSTOPERATIVE PAIN from PHYSIOTHERAPIST PERSPECTIVE

.  Taavi Metsma, physioterapist, MSc; North-Estonian Regional Hospital
14.15-14.25
Questions
14.25- 14.55
COFFEE BREAK
PART III
14.55-15.25

PAIN and SLEEPING DISORDERS

. Katrin Põld, neurologist; Viljandi Hospital
15.25-15.55

AS A PAIN SPECIALIST IN FINLAND

. Ursula Koorits, anaesthesiologist, honored member of Estonian Pain Society; Central Finland Central Hospital
15.55-16.0516.05-16.15

EUROPEAN PAIN FEDERAtION (EFIC) NOTIFICATIONS

. Kaire Pakkonen, anaesthesiologist; Pärnu HospitalQuestions
16.15-16.30

16.30-17.30

COFFEE BREAK

Estonian Pain Society meeting
*Organisators leave a right to make changes in the program.
---
Registration fee
Until 30. october for doctors 25 EUR,  for nurses and students 15 EUR.
Late registration (after 30.10.18) fee: doctors 30 EUR, nurses and students 20 EUR.
For the members of Estonian Pains Society, who has paid for the membership in 2018 are valid discount-fees in early registration (doctors 15 EUR, nurses 10 EUR).
Participants are kindly asked to make the payment after completing the registration form for the account of Estonian Pain Society – Eesti Valu Selts, account nr EE772200221046319657 Swedbank. Please mark the following in reference –  "Pain conference 2018" and participant name/ names. If you wish to make the payment by invoice, then please mark your wish in the registrational form.
Registration is confirmed by receiving the fee. 
---
Transport
Organisators are offering a transportation to the venue and back from Tallinn, Pärnu and Narva (additional fee 5 EUR). Pleace spicify your choice in the registrational form.
---
Registration
REGISTER HERE